From routine checkups to immunizations, Rancho Mirage Pediatrics is equipped to handle all of your child's health needs. To help you and your family understand your treatment options, we've included descriptions of some of our leading services on this page.
Abdominal
ADHD Assessment
Allergies
Asthma
Audiometry and Tympanometry
Autism Screening
Bronchiolitis
Burns
Cancer
Chronic Conditions
Colds
Conjunctivitis
Depression Screening
Diabetes
Ear Infections
Ear Irrigation (Wax Removal)
Fever
Flu
Foreign Body Removal
Genitals & Urinary Tract
Hearing Screening: Otoacoustic Emmisions
Immunizations
Infections
Learning/Developmental Disabilities
Silver Nitrate Cauterization
Sports Injuries
Strep Throat
Suture and Staple Removal
Tonsillitis
Vision Screening: SPOT Refractive Photoscreening
Wart Freezing
Whooping Cough
---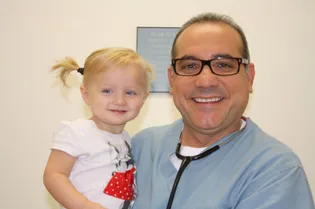 Office Services
The office has a waiting room divided in well and sick patient areas; once inside, there are 5 exam rooms total, as follows: 2 well patient exam rooms in the well aisle and 2 sick patient exam rooms in the sick aisle, and 1 treatment room, utilized mostly for procedures such as circumcisions, minor suturing, cryotherapy, ear lavages, hearing and vision screenings} tympanometry and audiometry, and others . Each exam room is individually equipped with its own clinical assessment tools and devices and other medical essentials, this helps to prevent equipment cross-contamination.
Our office pediatric services include:
Routine well child care & emergency sick child care.
Immunizations, PAINLESS thanks to the use of numbing agents.
Hemoglobin screening (anemia), Glucose and Cholesterol screening (diabetes - obesity), Urinalysis screening (urine infections) . Vital signs monitoring, including oscillometric blood pressure and pulse oxymetry if necessary.
Tympanometry, Audiometry and Otoacoustic Emissions (childhood hearing screening) .
Laser Refractometry (childhood vision screening).
Nebulizations (breathing treatments).
Newborn circumcisions and minor surgery.
Freezing procedures (cryotherapy) for removal of warts and molluscum contagiosum.
Ear irrigation: wax build-up removal.
Ear piercing for infants (Blohmdal sterile medical equipment)
Electronic medical record system (EMR) with complete capability for electronic prescriptions to your preferred pharmacy.
NO insurance? NO PROBLEM!!
We have implemented new REDUCED rates for self-pay patients in view of the current difficult economic climate and in consideration of a potential financial hardship affecting the families of our pediatric patients; our practice is eager to continue to provide uninterrupted quality medical care by reducing our cash fee for service rates, now down by 35% for all medical services, and down to 40% for selected services.
New FLEXIBLE office hours:
In view of demanding workplace schedules thet limit the availability of the parents of ou our pediatric patients, our practice has implemented new and more flexible office hours on both mornings and afternoons:
Extended morning hours until 1 PM
Extended afternoon hours until 6 PM
Those new hours are now available 3 days per week and we hope they will be more suitable to your personal scheduling needs, in view that the office will remain open during most workplace lunch breaks and after daily work schedules.
Languages Spoken:
What Sets Us Apart:
Speech Therapy services in the office.
Surgical procedures in the office such as Newborn Circumcisions and Minor Surgery.
Latest technology of vision and hearing screenings using Otoacoustic Emmisions for hearing and Laser Refractometry for vision.